News
---
Anna walks "Opening Night Green Carpet" at Dances With Films Festival

The 16th annual Dances With Films Festival in Los Angeles held an "Opening Night Green Carpet" to kick off its 11 days of festival film screenings this May.

Actress Anna Moore was invited to walk the DWF Green Carpet at the Hollywood Loews Hotel with her fellow cast and crew of Director Sam Hancock's dramatic feature film, Us, for a photoshoot and on-camera carpet Q&A. Among attendees (pictured left) from the film were Matt Machon (co-producer), Alanna Ubach (actress), and Hancock himself.

"Hanging out with (Us cast and crew) Sam, Alanna and Matt was so much fun - we grabbed a bite at Susan Feniger's STREET after the carpet and caught up," Anna commented of the evening's itinerary. "None of us had seen each other since the shoot so we had a ton of catching up to do."

Us is slated to continue its tour of the festival circuit this year, so stay tuned for updates on future screenings as they unfold!
---
Us has World Premiere at TLC's Chinese Theaters in Los Angeles
Director
Sam Hancock's
psychological drama,
Us
, featuring Anna Moore and starring Alanna Ubach, had its World Premiere at TLC's Chinese Theatres on Hollywood Boulevard in Los Angeles this June. There was a huge turnout for the movie's screening, including almost the entire cast and crew, most of whom had flown in from the San Francisco Bay Area.
Before the film, all in attendance enjoyed a Green Carpet photoshoot of the cast and crew. Anna and Director Mr. Hancock (pictured left) made the rounds with photographers for several minutes.
"Seeing the movie on the big screen for the first time was intense," remarked Anna of her experience at the premiere. "The love story is so moving - the film is wonderfully written and it was wonderful to watch all of the performances at that huge venue."
For the cast and crew Q&A after the film, several audience members remarked on the subtlety the film's producers were able to portray the weighty subject-matter of the movie. The film was very well recieved - this screening marks the start of what will be a long round of screenings across the US at several festivals and venues. Stay tuned for updates.
---
Us receives "Official Selection" at Dances With Films Festival in LA

Sam Hancock's feature film Us has been awarded "Official Selection" by the 2013
Dances With Films Festival
, to be held this May and June. The festival, now in its 16th year, will have 11 days of screenings, held at the TLC Chinese Theaters on Hollywood Blvd. in Los Angeles.
The film features Anna Moore and stars
Alanna Ubach
- Us will enjoy its World Premiere at the TLC Chinese Theatres in June. Check out the preview of the feature film
here
, which was shot primarily in the San Francisco Bay Area. "It was wonderful to work in my home town," commented Anna about the locations, "everyone involved in the film was absolutely lovely and had that wonderful 'Bay Area' feel I so adore."
The San Francisco Bay Area is home to the majority of Us's writers, director, actors and producers, including Keren Hantman (producer), Matt Machon (co-producer), Heather MacLean (associate producer), Matthew McKay (executive producer), Michael Navarra (actor and producer), and Maria Victoria Ponce (producer). The film is slated to continue the rounds of the festival circuit this year - stay tuned for updates on future screenings in your area!
---
Fighting Fish wins "Best Feature Film" at La Femme Film Festival in LA
Annette Apitz' feature film, Fighting Fish, took home another honor this month at the 2011
La Femme International Film Festival
in Los Angeles. Writer/Director Apitz and Anna Moore, the film's lead actress, took the stage at the Festival's final Closing Ceremonies and accepted a satuette for "Best Feature Film".
"I was absolutely honored to be in the same room as so many talented women in the Entertainment Industry," remarked Anna of the Closing Ceremonies' lineup of female speakers and honorees, which are described at lengh
here
, and include Fest founder,
Leslie LaPage
, New Establishment Awared recipient,
Tasha Smith
, and Thespian Award winner,
Lainie Kazan
.
La Femme International Film Festival is a premier festival that focuses on platforming women filmmakers "by women, for everyone". According to LaPage, the "Festival was created in 2005, when it became apparent that there was a need to enhance women behind the camera as Directors, Producers, and Writers." See the complete list of winners from the 2011 La Femme Film Festival
here
.
---
Fighting Fish featured on cover of "NY Women in Film & TV Monthly" Publication
Writer/Director Annette Apitz' feature film, Fighting Fish, will have another New York screening on Tuesday, Sept. 27th. The screening is part of the New York Women in Film & TV screening series, and will be held at the Anthology Film Archives, 32 Second Avenue, at 2nd Street. Fighting Fish has recieved a huge honor by being featured on the NY Women in Film & TV monthly publication!
The screening will be followed by a Q&A, and the after-party will be held at Dempsey's Pub, which is at 61 Second Ave., between 3rd and 4th Streets. If you would like to come to the screening, or even just come for the Q&A, please purchase tickets here!
---
Baby Steps screens at the 2011 Miami International Film Festival
Writer/Director Natalia Leite's short film, Baby Steps, will be screening at the Miami Int'l Short Film Festival in November! It's their 10th year anniversary so they are planning on a big celebration. If any of you happen to be in Miami between Nov 14-20, you can see Anna act opposite the beautiful and talented Abigail Savage in this delicate story of a young woman's struggle to grow up and take responsibility for her life.
Since the Baby Steps screening at The SF Frameline Film Festival in June, Director Natalia Leite has received a number of requests from other LGBT Film Festivals around the globe to screen the film - so it will most likely be touring a number of LGBT festivals in North Carolina, Tuscan AZ, Albuquerque, Melbourne, Sacramento, and Tel-Aviv. Yes, Tel-Aviv! She is also waiting to hear back from other festivals, so check back here for updates on future screenings.
On another note, Miss Leite is working on another short right now (shooting in November of 2011) which will shoot at a house Upstate New York. She also has a feature-length screenplay that's been picked up and (fingers crossed!) she is planning to shoot in the Summer of 2012. Huge congratulations Natalia - you deserve it!
---
Fighting Fish has its Los Angeles premiere at 2011 LA Femme Film Festival
Fighting Fish will have its Los Angeles premier as part of the 2011 LA Femme International Film Festival on October 15th at 2pm! The screening will be held at the Renberg Theatre (1125 N. McCadden Place, Hollywood, CA 90038) and immediately followed by a group outing with Anna to her favorite restaurant of all time - Cafe Gratitude (on Larchemont).

Anna is ecstatic to be a part of the LA Femme Film Festival, which is a premiere festival that focuses on women filmmakers' platforming their commercial films for the world wide audience. It is a Film Festival for those women who want to have an equal opportunity in commercial entertainment desiring to change, enhance, or become leaders in the industry as a Director, Writer, Producer or Director of Photography. If you're in Los Angeles and would like to come along, purchase tickets here. See you at the screening!

---
Anna wins "Best Actress" at 2011 NY Vision Film Festival
On a monumental evening in New York City this past June, Anna was awarded a statuette for Best Actress at the 2011 NY Vision Film Festival for her role as Alice in Annette Apitz' independent feature film Fighting Fish. Anna expressed her gratitude to the Film's Director for the entire experience of landing her first lead in a feature film, taking it to festival, and being recognized for her work: "Annette was a visionary the whole way through, and it was a testament to her tenacity that the film has done so well and made it into so many fantastic festivals."

The film screened at the Vision Fest as the "Opening Night Selection" and played to two packed theatres simultaneously screening Fighting Fish. "All of my friends from NYU came, my professors... even my family flew in from California for the screening - it was a dream-come-true in so many ways."

What is next for Fighting Fish? Plans to have it screen at the Los Angeles La Femme Film Festival this October are in the works - more to follow on this "Women In Cinema" fest in coming articles!
---
Honk If You Miss Randy Todd to World Premier at 2011 Little Rock Film Festival
Director Josh Smith's narrative short film, Honk If You Miss Randy Todd, will have its world premier at the 2011 Little Rock Film Festival. The film stars Anna Moore and Brian Kimmet (Flags of our Fathers, The Fallen Faithful, Hunting Blind) as a young, city-slicker couple navigating a zany family funeral in small-town middle America.
MovieMaker Magazine recently named the Little Rock Film Festival as one of the top 25 film festivals in the United States worth the entry fee, based on the caliber of films being screened. "This film is so funny - so exciting that it's on the festival circuit," giggles Anna. "Go Arkansas!!"
---
Anna performs in MIXTAPE: LETTING GO
Anna will be acting in Little Bird Production's annual Los Angeles One Act Festival, "Mixtape," during the first three weekends in April, 2011. Anna acts in the fifth play of the evening (entitled 'Advanced Placement'), in which she plays the role of Julie, a high school student who gets some extremely bad news in the middle of class. "It's a really cute role," smiles Anna during her tech rehearsal at The Artworks Theatre on Santa Monica Blvd in West Hollywood. "My one act is pure silliness! I love to work on such heightened comedy..."
'Advanced Placement' (written by the hilarious CeCe Garcia) was directed by the lovely Katie McNeill, who is an Associate Producer at Hunting Lane Films (most recently celebrated for its Sundance darling, BLUE VALENTINE, starring Ryan Gosling and Michelle Williams). Katie has been a director and co-producer of "Mixtape" for six years (along with fellow producers Garrett Kemble and Lulu Brud), and her dedication to the annual festival is evident in the delight she takes in carefully monitoring every detail of the production. "I'm so excited that we were able to get a few of our extremely talented musician friends to MC and play between the plays each weekend! The music is so great, and we were able to put together CD's (for donation) to hand out after each performance as a 'thank you' to our audience members... Ya gotta have a mixtape to hand out at the 'Mixtape Festival,' y'know?"
The 2011 Mixtape Festival features a total of five one act plays and three separate live musicians (each individually accompanying one weekend of performances). The theme for 2011 is "Letting Go," and is achingly or humorously exemplified in each of the plays, as well as through the live music in between. "We're very happy to be taking this festival to the next level this year," says producer Garrett Kemble. "We were able to get food and beverage sponsors, so the audience gets to enjoy free Pabst Blue Ribbon beer and Sugar Mama's gourmet cupcakes during the show. We're huge advocates of creating an atmosphere where our audience has a great time - that's what it's all about."
The Mixtape Festival runs on Friday, Saturday, and Sunday nights at 8pm for the first three weekends in April, 2011. Check out www.mixtapeoneactfestival.com for more details on purchasing tickets in advance!
---
Anna acts in Episode of NBC's Love Bites
NBC's new hour-long romantic comedy, Love Bites (from Executive Producer Cindy Chupack [Sex and the City] and Working Title Films [Love Actually, Bridget Jones]), is set to have its network television premier in March, 2011. The show is currently shooting out its entire first season, which follows several different story lines in various places across the United States. During the third week of November, 2010, Anna acted in a scene (shot in downtown Culver City, CA) for the season's eighth episode, which was directed by Monk's Anton Cropper.
"This show is going to be absolutely hilarious," laughed Anna on set between takes. "The script is so great, and everyone involved, from the writers to the crew to the actors, has such a strong sense of humor." Anna's episode was shot by Director of Photography Charlie Lieberman (most recently known for his work on Heros), who was also the cinematographer for the one and only season of the much-celebrated '90s teen drama, My So Called Life. "It's a real honor to work with so many talented people," she admired.
Anna also had the distinct pleasure of sharing her time on set with a few members of Los Angeles based A'cappella group, Traffic Jam. "To avoid giving away too many story-line details, let's just say that Traffic Jam rocks and they were so awesome to work with," smiled Anna as she skipped into her trailer on her final day on the Love Bites lot. "Can't wait to see them perform live in LA."
To find out when her episode of Love Bites airs, make sure to check Anna's calendar for official air dates.
---
Enzo Film's Honk If You Miss Randy Todd shoots in Los Angeles
Enzo Film's short film, Honk If You Miss Randy Todd, shot in Los Angeles, CA during the first week of August, 2010. The film stars Anna Moore and Brian Kimmet (Flags of our Fathers, The Fallen Faithful, Hunting Blind) as a young, city-slicker couple navigating a zany family funeral in small-town middle America.
Directed and co-written by Josh Smith, Honk is based on a true story from the life of writer Daniel Van Kirk, who, in addition to co-writing the story, acts in the film as town-local, Reggie Brown. "I actually went to a funeral this wild a few years ago," laughs Van Kirk. "At the time, it was really intense, but the story turned into a pretty hilarious script."
"Every actor is so funny that I've actually had to work very hard to keep a straight face during my takes," says Anna of her most recent role in a comic film. "It's been so incredibly fun to hang around set with this cast and crew!" The entire movie is being shot on The Red Camera by Director of Photography, Michael Totten (Pirates of the Caribbean 4), who was recently featured in Film Maker Magazine as one of the 25 New Faces of 2010.
Producer Anselm Clinard has high hopes for the movie. "A new part of the team is editor, Tom Griffin, whose last film, Homewrecker, won an award at 2010 Sundance Film Festival," notes Clinard. "We're all so happy with the footage, and very excited to see where this movie goes."
---
Natalia Leite's Forever Young shoots in San Francisco
Anna will be acting in writer/director Natalia Leite's most recent short film, Forever Young, set to film in the San Francisco Bay Area from July 26th through the first week in August, 2010. Anna plays the role of Maggie, a new mother whose 6-month-old baby convinces Maggie's wayward sister to pull her life together.
Natalia Leite is a writer, producer, and director born and raised in Sao Paulo, Brazil. She studied at the San Francisco Art Institute and began her career showcasing art films in galleries and independent movie theaters, such as the Artist Television Access and the Film Arts Foundation. She has assisted award-winning directors and producers, including Frederick Marx (Hoop Dreams) and Lemore Syvan (Sherry Baby, The Private Lives of Pippa Lee).
After moving to New York in 2006, she worked as an Associate Producer on the documentary For the Next 7 Generations with Emmy-Award winning Director Carole Hart, produced music videos for bands like Dr. Dog, and directed several web-episodes for Paper Magazine featuring renown artists like Miranda July and Chloe Sevigny. Her latest short film Dash screened at the Brooklyn Arts Council Film Series and the Palm Beach International Film Festival in 2009. She is a recipient of the Kodak Grant Award 2003. Most recently, Natalia's feature screenplay Bare was chosen as a semi-finalist for the Ultimate Filmmaker Competition of 2009.
Continue to check back here for updates on post-production and screening dates!
---
Bérénice Eveno Photo Shoot
Anna was delighted to recently model for a promotional photo shoot held by writer/director Lauren Lillie at The Avalon Hotel in Beverly Hills. Ms. Lillie, and her incredibly talented Director of Photography, Bérénice Eveno (both current students at AFI), captured images of Anna for use in promoting a film they will be producing later this year.
Lauren Lillie and Bérénice Eveno are currently developing a website for the film as pre-production gets underway, on which several of the images and a synopsis of the film will be available. In the meantime, take a look at the Gallery page of this site for a few highlights of Anna's shoot, and keep checking here for the link to the movie's website!
---
Shooting Begins on Jason Boritz' feature film The Shattering
Film Cartel Entertainment's feature film, The Shattering, began shooting in the Angeles National Forest on Monday, May 17th. The film stars Anna Moore and Liam McMahon ("Hunger" - Winner Best Debut Feature, 2008 Cannes Film Festival) as a young couple battling for survival against a series of hidden threats.
Directed by Jason Boritz, The Shattering is being billed as a psychological thriller in the mold of The Blair Witch Project, American Werewolf in London and the recent box office phenomenon, Paranormal Activity, where what is unknown and unseen is far more frightening than anything we could possibly imagine.
"We've been doing night shoots out in the woods, and it's incredibly creepy out there," says Anna of her first lead in a thriller. "It's possibly the most fun I've ever had on a set!" The entire movie is being shot on The Red Camera by the brilliant Director of Photography, Dan Adlerstien. "His footage is absolutely stunning. Every shot looks like a Degas painting - I couldn't be happier," adds Ward Perry, the film's writer.
The shoot will be moving to the forests of Topanga, CA next week, and is slated to conclude in June, 2010. "We will definitely have a cut of the film ready to submit to Sundance in September," says Boritz with a smile. "We're expecting a theatrical release next year... and we're all very excited."
---
Fighting Fish on the Festival Circuit
Fighting Fish has just been invited to its first two festivals!
Fighting Fish is the first feature coming from producer Bertha Pan's recently launched Slew Pictures. It is Annette Apitz's feature-film directorial debut. The film was shot with a Red camera in upstate New York.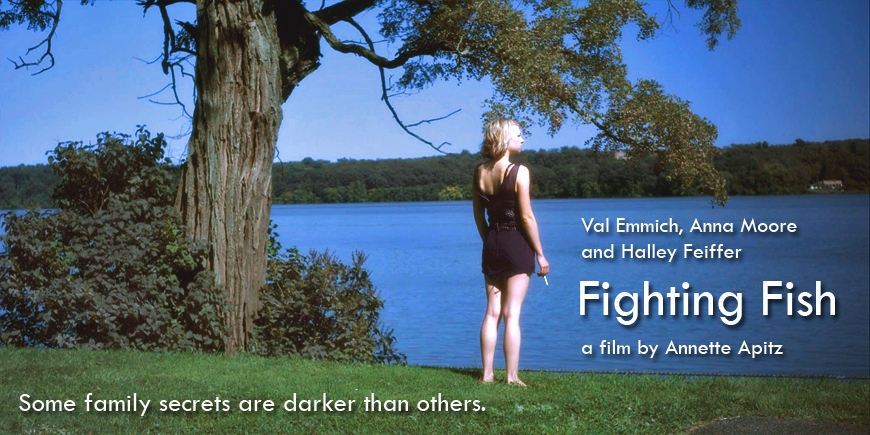 The talented cast includes Val Emmich ("Ugly Betty"), Anna Moore ("The Life Before her Eyes"), Halley Feiffer ("The Messenger," "Gentlemen Broncos") and Haviland Morris ("Adam"). Three of Val Emmich's songs are on the film's soundtrack. Other soundtrack artists who supported the movie include Elf Power, Imperial Teen, Chris Trapper, This Car Up, and Mark McAdam.
Fighting Fish will have its World Premiere at the 2010 Nashville Film Festival in April!

Screenings:
Tuesday, April 20, 9:15 pm
Wednesday, April 21, 5:15 pm
Green Hill Cinema
Fighting Fish will screen in early May at the Talking Pictures Festival in Evanston, IL.
Screenings:
Friday, May 7, 7:00 pm
NEXT Theater
"Fighting Fish" screens at the 14th Annual Rhode Island Film Festival: on Friday, August 13, at 10:00 pm.
It screens in Providence, Rhode Island, at the University of Rhode Island's Paff Theater (Feinstein Providence Campus 80 Washington Street, Providence, RI 02903 401.277.5000 • www.uri.edu/prov).
Here is a link to the festival website:
http://www.film-festival.org/2010Festival.php
Keep checking back for more screening dates in your area!!
---
Latest Photo Shoot with Gene Marcus
Anna just received the early proofs from a photo shoot she had with photographer and television Director Gene Marcus. The shoot took place on and around Venice's famous art walk, Abbott Kinney, and features some amazing images.
Mr. Marcus is currently in the process of creating a slideshow of her best shots, and in the meantime, check out her Gallery for a sneak peak!!

ZR:PD Screens in Sarasota
Zack Rogers: Pizza Delivery has been invited to screen at the Sarasota Film Festival this April!
Written and Directed by Greg Stees, ZR:PD is a Jet Lag Productions short film about an aspiring detective and his zany pizza shop coworkers. The movie stars Nathan Williams, Anna Moore, Aldous Davidson and Al Thompson, and was shot in upstate New York.
Zack Rogers has been invited to screen at the Sarasota Fringe Festival. It willl play Saturday, April 10th at 9:45pm in Sarasota, Fl.
Check out this link for details: SarasotaFringeFilmFestival.com
The film will also screen in The Watchdown Film Showcase at The Creek in Long Island City!

WHAT: Zack Rogers: Pizza Delivery SCREENING...
WHEN: Tuesday April 13th 8:00pm
WHERE: The Creek in Long Island City. 10-93 Jackson Ave. One stop from Manhattan. (Screening in the downstairs Lounge.)
The Creek in Long Island City.
Keep checking back here for more screenings in your area!!
Anna's Calendar

June 4
Director Sam Hancock's psychological drama, Us, featuring Anna Moore and starring Alanna Ubach, has World Premiere at Chinese Theaters in Los Angeles.


May 30

Us receives "Official Selection" and Anna walks Opening Night Green Carpet for 2013 Dances With Films Festival in Los Angeles.


February 11
Director Annette Apitz' drama, Fighting Fish, starring Anna Moore and Val Emmich, releases its new movie poster.